This is an archived article and the information in the article may be outdated. Please look at the time stamp on the story to see when it was last updated.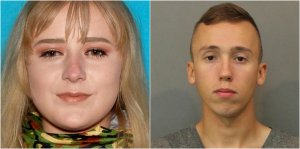 LAKE COUNTY, Ind. — A 16-year-old Indiana girl who authorities believed to be in extreme danger has been found.
The Lake County Sheriff's Office issued an Amber Alert for Madison Elizabeth Yancy Eddlemon, of Crown Point, Indiana, on Sunday.
She had not been seen since Saturday morning around 9 o'clock.
Eddlemon was last seen in her own car, which has was found abandoned with a window cracked and some of her belongings inside, according to the Crown Point Police Department.
Her family told police they last spoke to her 9 p.m. on Friday.
The sheriff's office said Eddlemon was believed to be with Alexander Martin Curry-Fishtorn, 22.  According to WGN, Eddlemon's family had a protective order against Curry-Fishtorn for stalking.  Officials believed she was in "extreme danger."
Sunday afternoon Eddlemon was found safe in Little Rock, Arkansas, FBI officials told WGN. Curry-Fishtorn is currently in custody.