This is an archived article and the information in the article may be outdated. Please look at the time stamp on the story to see when it was last updated.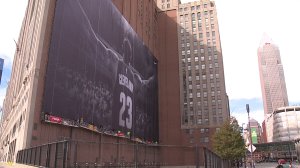 CLEVELAND, Ohio -- The empty spot that used to be home to the iconic LeBron James banner downtown will be replaced with a guardian from the Hope Memorial Bridge.
But it's not just an image of a guardian -- it's a tribute to the Cavs' past motto "All for the Land" and the Cleveland Script, which has become iconic in the city.
And the picture of the statue will actually be a mosaic. The Cavs will crowd source thousands of photos from Clevelanders and then use them to create the mosaic.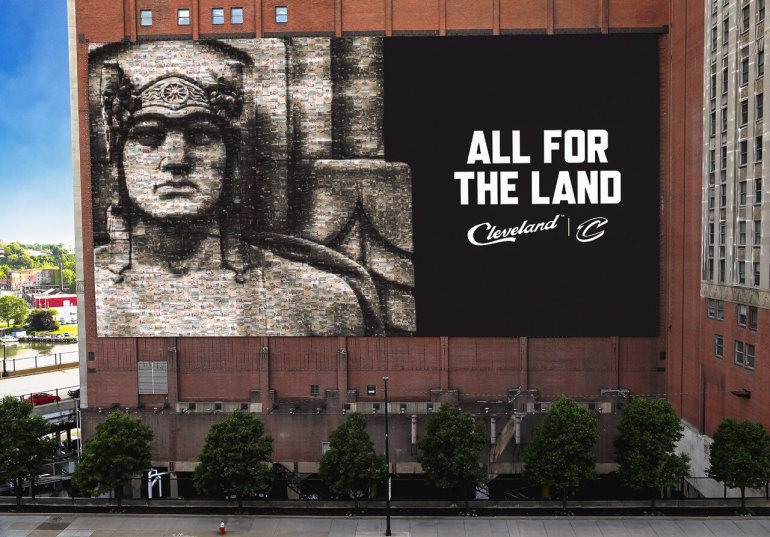 The new banner will also include a Cleveland Cavaliers logo and a Destination Cleveland logo.
The plans for the replacement of the LeBron banner on the side of the Sherwin Williams building were announced Friday at a Cleveland Planning Commission meeting.
As far as the guardian?
The guardian is one of eight included on the Hope Memorial Bridge.  Each guardian holds some type of vehicle, which range from a covered wagon to a motorized truck. The design was meant to represent progress in transportation and industrial development, according to HistoricBridges.com. 
The Cavaliers worked with the city and Destination Cleveland to come up with the banner concept.
Cavs and Quicken Loans CEO Len Komoroski said the team wanted to replace the banner with something that was a "grand civic gesture."
"Our goal was to create a meaningful offering of public art to celebrate 'The Land' and all those who support and love this city and region," he said. "Our hope is that it stirs the emotion and sense of pride, community and celebration of our city in a personal way for those invested in the land."
The Cavaliers are now accepting photo submissions to be considered for use as a part of the mosaic that will make up the image of the Guardian on the actual banner.  For more information and to submit photos, visit Cavs.com/banner. The deadline for submissions is on Friday, September 21 at 5:00 p.m.
The banner will be installed on the Sherwin-Williams global headquarters that overlooks Ontario Street and faces Quicken Loans Arena in early October in conjunction with the start of the Cavaliers 2018-19 season.
The LeBron banner was removed in July after James announced plans to play for the L.A. Lakers. The 2,600-pound banner was originally installed in 2014 when James returned to Cleveland from the Miami Heat.
Nike designed the mural, which shows James from behind.  He extended his arms outward as a puff of white powder lingered in the air.  "Cleveland" was boldly displayed on the back of his jersey.