This is an archived article and the information in the article may be outdated. Please look at the time stamp on the story to see when it was last updated.
CLEVELAND, Ohio — Family and friends of Aliza Sherman continue their crusade for justice, four years after the loving mother and nurse was brutally stabbed to death in broad daylight.
Friday night, more than a dozen people once again gathered at E. 12th and Hamilton Ave in downtown Cleveland as they have every year on the anniversary.
"It's horrible; it's terrible, but for her we get up and come for her. We continue to be her voice and fight for her since she can't physically do it herself," said daughter, Jennifer Sherman.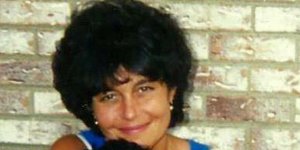 Aliza was heading to meet her divorce attorney when she was fatally stabbed 11 times.
Surveillance video captured a grainy image of the suspect, but the person has not yet been identified.
"It's so distressing to look at it and I keep looking at it and thinking who could that be," said best friend, Jan Lash.
Investigators have also been diligently reviewing the evidence and continually working the case since that horrific afternoon.
Although no suspects have been named, last year in a bizarre twist, Aliza's divorce attorney Gregory Moore was indicted and pleaded not guilty to several charges connected to the case including "tampering with evidence" and "obstructing official business."
Assistant Cuyahoga County Prosecutor Anna Faraglia said Moore told investigators he was waiting for Sherman that day in his office, but phone records and keycard data from the building lead them to believe Moore left an hour before Sherman arrived, and didn't return until more than an hour after the stabbing.
Prosecutor Faraglia said, "It's being reviewed, looked at; I can not give any further comment with regards to the status, but rest assured, that case has not gone unnoticed in this office."
However a $50,000 reward is still being offered in the case; it's the largest reward ever offered by Crimestoppers, said Cleveland Deputy Chief Ed Tomba.
They're hoping witnesses and others with information will follow their conscience and come forward.
"A knife very personal and nothing taken so it wasn't a robbery, said Tomba, "She was down here for a reason…that's very personal."
Aliza's children, Jennifer and Jason Sherman, both spoke at Friday's vigil.
They remembered their mother as fun-loving, smart, compassionate and generous.
And although the past four years have been hard, they say they will keep holding vigils and speaking out until justice is finally served.