This is an archived article and the information in the article may be outdated. Please look at the time stamp on the story to see when it was last updated.
AKRON, Ohio– The Akron Zoo has three adorable new additions.
The zoo's snow leopard, Shanti, gave birth to triplets on March 5. This is the first litter of three snow leopards in the zoo's history.
The cubs weighed just 1 pound when they were born. At four weeks old, they are now up to 4 pounds and starting to become mobile.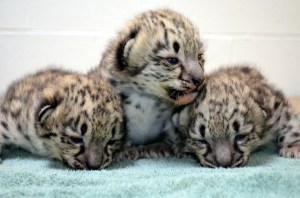 Shanti, already a mother of four from two previously litters, and her new cubs will not be on exhibit until the end of May or early June.
The zoo plans to name the newborns through a contest announced in a few weeks.
Snow leopards are endangered mostly because of loss of habitat and poaching for their pelts. According to the Akron Zoo, there are about 4,000 left in the wild.