This is an archived article and the information in the article may be outdated. Please look at the time stamp on the story to see when it was last updated.
AKRON, Ohio– An Akron woman admitted to her role in a human trafficking case and will testify against her boyfriend in an upcoming trial.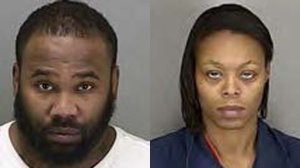 Pearl Coffey, 34, pleaded guilty to attempted trafficking in persons, compelling prostitution and corrupting another with drugs in Summit County common Pleas Court on Thursday.
Coffey admitted she preyed on young girls and women. According to the prosecutor's office, she provided the victims with shelter, drugs and other items in exchange for them prostituting themselves.
Court documents said one victim was 16 years old or younger, with the crimes happening between August 2016 and February 2017.
Coffey agreed to testify against Darren Townsend, who is a co-defendant. His trial in set to begin on Feb. 5.
They  are the first in Summit County to be charged with trafficking in persons, which first became an offense in Ohio in 2011. The Summit County Prosecutor's Office said there have been fewer than two dozen trials for that charge in the state during that time.
Most human trafficking cases in Ohio are handled on the federal level.
Coffey will be sentenced on Feb. 27.