This is an archived article and the information in the article may be outdated. Please look at the time stamp on the story to see when it was last updated.
Warning: The details of this story are disturbing
AKRON – Police are currently searching for a man who was caught defecating on a car belonging to a woman in Akron. A photo of the act was taken by the father of the victim.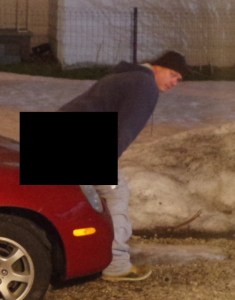 According to Akron Police Lieutenant Rick Edwards, the man is in his mid-40's and incidents like this have been reported since May 2012.
19 reports have been filed in total and the cars have been damaged on the outside, the door handles and the interior, if they were left unlocked.
All of the incidents took place in the Castle Homes neighborhood in Akron.
Some victims reported the incidents thinking it was from a dog.
Lt. Edwards says investigators could perform DNA testing to try to identify the man, but he says for minor crimes, like this, that would be a last resort.
If arrested, the suspect could face charges, such as criminal mischief.
Anyone with information about this man should contact Akron police.
Below is a map where all of the incidents have occurred.