This is an archived article and the information in the article may be outdated. Please look at the time stamp on the story to see when it was last updated.
AKRON, Ohio– The
Akron officer who was injured when he was struck by a suspected drunk driver spoke to the media on Friday.
Police say motorcycle officer Jason McKeel was attempting to stop another driver for a traffic violation last Saturday night on South Portage Path when he was struck by 65-year-old Corrie Sharpe. Police said Sharpe was driving in a minivan and had pulled in front of him. Lt. Rick Edwards said Officer McKeel wound up under the vehicle. He suffered a broken leg and had surgery.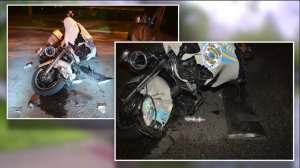 Sharpe was arrested on scene and charged with OVI, aggravated vehicular assault and a misdemeanor charge of endangering children. She reportedly had her 11-year-old granddaughter with her at the time.
Read more, here.