This is an archived article and the information in the article may be outdated. Please look at the time stamp on the story to see when it was last updated.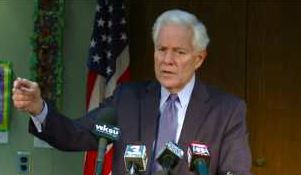 AKRON, Ohio- Akron Mayor Don Plusquellic announced his resignation on Friday. He has been serving the city for over 41 years.
He issued the following statement:
"One of the major reasons that I decided to retire now, is because I believe Garry Moneypenny is the best person to take over for me.  His strong background in public safety, his work on City Council, his work directly with our economic development staff on business attraction efforts, his work with Stu Lichter to keep Goodyear and develop the East side, and most importantly, his integrity, makes him the best choice to be Mayor."
Plusquellic said he will officially retire at midnight on May 31 and that he wishes the best for all Akron residents.
"I hope they know that I did my best and truly cared for our City.  And they will know why I will never apologize for fighting for Akron residents to get the jobs and the education they need, or for simply telling the truth," Plusquellic also added.
Stay with FOX 8 News for more.
Read the mayor's entire resignation letter here