This is an archived article and the information in the article may be outdated. Please look at the time stamp on the story to see when it was last updated.
AKRON, Ohio- An Akron man was sentenced to two years in prison for running a dog-fighting ring.
Earlier this year, Alvin Banks, 56, pleaded guilty to five counts including sponsoring and exhibiting a canine in an animal fighting venture and drug-related charges. On Tuesday, he was ordered to pay more than $44,000 in restitution to the Humane Society of Greater Akron.
When police and federal agents raided Banks' home on Cordova Avenue in November, they arrested 47 people and rescued eight pit bulls. The Department of Justice said two of the dogs were covered in blood from fresh wounds. Officers also found a blood-stained ring, two marijuana grow operations and several firearms, Akron police said.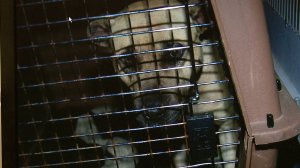 "This defendant had a dog-fighting ring at his home, and a firearm that he was forbidden from having," said Steven M. Dettelbach, the U.S. Attorney for the Northern District of Ohio. "The entire range of conduct uncovered at Banks' home was disturbing."
Nine others who were indicted in connection with the dog-fighting ring will be sentenced next month.