This is an archived article and the information in the article may be outdated. Please look at the time stamp on the story to see when it was last updated.
VALLEY VIEW, Ohio — The Cuyahoga County Animal Shelter is looking for furever homes for some awesome dogs.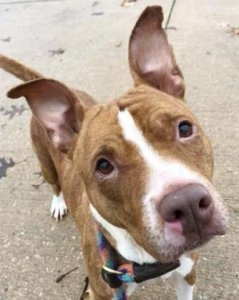 Five-year-old Bonnie is adorable. She came to the shelter back in November pregnant.  Now that all of her puppies have gone and been adopted, she is finally ready to find a family of her own!  She is just as sweet as can be and a staff and volunteer favorite! She's available for adoption and can be found in Kennel #6.
Can't adopt but are looking for a way to support CCAS dogs?
Take a look at their website where you can help out by purchasing adorable Valentine's Day cards for the 4th annual Operation Spread the Love campaign.  The proceeds of this event go to the Best Friends Medical Relief Fund that serves to treat sick and injured strays.
To purchase tickets, click here. 
The shelter is located on Sweet Valley Drive in Valley View.
It's open Tuesdays, Wednesdays and Saturdays from 10:30 a.m. to 4:30 p.m., Thursdays and Fridays from 10:30 a.m. to 6 p.m., and Sundays from noon to 4:30 p.m.
More information on the dogs up for adoption here.
For more on the shelter, click here.