This is an archived article and the information in the article may be outdated. Please look at the time stamp on the story to see when it was last updated.
COLUMBUS, Ohio – Babies, babies everywhere!
That's pretty much been the story at the Columbus Zoo and Aquarium for the past few weeks, as 7 babies – from three at-risk species – made their entrances into the world.
On January 26, five Asian small-clawed otter pups made an early morning arrival. The sweet
little group is made up of two sisters and three brothers. Their mom, Peanut, and dad, Gus, are taking care of them in a den that's not on view right now since their exhibit is closed for the season. Before they do get to make their debut, however, they will need to get swimming lessons from mom and dad so they can take advantage of their habitat's private pool.
February 16 saw a little girl make her debut in the silvered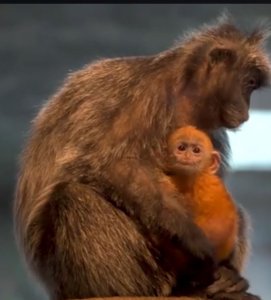 leaf langur home. She is currently on view because she and her mom felt comfortable enough to enter the public viewing area.
Rounding out the newborn group on February 19 was a female Humboldt penguin chick who has the best name ever, penguin or otherwise: Her Majesty Gertrude Sprinklebottom. (We're told she's called Gertrude for short.) How did she get that awesome name? Here's what the Zoo said:
After some deliberation by the penguin animal care team, they chose Her Majesty Gertrude Sprinklebottom as they affectionately note: "Our penguins are a bit pretentious and very cheeky. We wanted a name that simply reflects their attitudes/personality."
Her Majesty is sticking to her nesting box and may or may not be able to be seen until she leaves her royal nest.
[protected-iframe id="a946891c522b0afcf365b8dfc8398eb1-28572381-80973872″ info="https://www.facebook.com/plugins/video.php?href=https%3A%2F%2Fwww.facebook.com%2Fcolumbuszoo%2Fvideos%2F10155538204852106%2F&show_text=0&width=560″ width="560″ height="315″ frameborder="0″ style="border:none;overflow:hidden" scrolling="no"]
Welcome, babies!