This is an archived article and the information in the article may be outdated. Please look at the time stamp on the story to see when it was last updated.
RICHLAND COUNTY,  Ohio -- The hopes and prayers of many Northeast Ohioans were answered on Wednesday, when a 10-month-old boy was successfully rescued, after being kidnapped by his father, a wanted felon.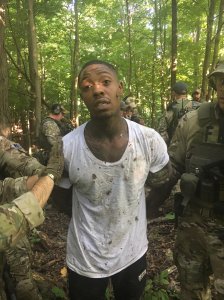 A  photo obtained by Fox 8 News shows 27-year-old Robert Beane III after his capture by a team of state, federal and local SWAT team members in a wooded area of Richland County.
Beane triggered an Amber Alert in Lorain earlier in the day, when he took his son from the child's mother, after pistol whipping and stomping the woman, who has a protection order against Beane.
Investigators tell Fox 8 that Robert Beane tried to elude authorities by hiding along with his son in a tent that he stumbled across in the woods outside the village of Lucas.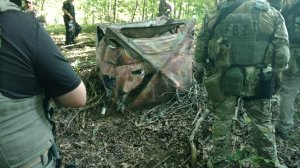 Authorities had tracked Beane to Richland County Wednesday afternoon. He then crashed a 2018 Camaro as he was being pursued by police. Beane had stolen the car in Elyria, before taking his son by force.
It was out of concern for the well-being of the little boy, that prompted authorities to conduct a coordinated and cautious manhunt.
U.S. Marshal Pete Elliott told Fox 8, "You know we've seen in the past where individuals have hurt the child, so it was a measured effort by everybody involved. That's why we had the SWAT teams there from the state troopers, the FBI, the sheriff's departments, so many SWAT members, we had helicopters from the state troopers."
Elliott says the successful rescue of the child is a credit to team work by all levels of law enforcement.
"They did a phenomenal job just piecing everything together, they were very careful and deliberate in what they did and how we did it, and at the end of the day, it worked, everybody was safe," he said.
Robert Beane III is no stranger to police and trouble with the law. Most recently he was the target of a secret indictment charging him with kidnapping, robbery, assault, weapons violations and theft.
Even before Wednesday's manhunt, authorities had already been searching for Beane after he walked away from a hospital, following a judge's decision to grant him a medical furlough.
He was almost caught earlier this month, but jumped out of a second story window to elude capture.
He then resurfaced when he attacked the mother of his child and took the boy.
"He's a thug that we need to take off the streets permanently, he's a dangerous individual and he became more dangerous once he took that child," said Elliott.
Beane is being held in the Richland County Jail and faces charges that include kidnapping and child endangering.