This is an archived article and the information in the article may be outdated. Please look at the time stamp on the story to see when it was last updated.
HAMMOND, IN — An iconic movie moment is "frozen in time" in Indiana.
According to WLS, a new statue commemorates an unforgettable scene in the movie "A Christmas Story."  The statue, which arrived in a box labeled "fragile" on Tuesday, recalls the moment when Flick gets his tongue stuck to a flag pole.
In the movie, Scott Schwartz, who played Flick, sticks his tongue on the frigid flagpole after being "triple-dog-dared."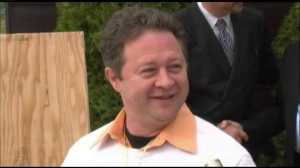 Rotblatt-Amrany created the $40,000 masterpiece to remember the moment, the same people who bronzed Michael Jordan.
This year marks the 30th anniversary of "A Christmas Story."
The "A Christmas Story" house is located on W. 11th Street in Cleveland and is open year-round for tours.
Click here to read more on this story.