This is an archived article and the information in the article may be outdated. Please look at the time stamp on the story to see when it was last updated.
CLEVELAND – An email shared on twitter Friday is causing a war of words between the Cleveland Firefighters Union and the Fire Chief.
"It was pretty straight forward. One of the assistant chiefs was asking for a notice to go out for us to wear our commemorative 9/11 shirts which we've done for the past 14 years, this year being the 15. It was flatly denied by the Chief," said local 93 president Tim Corcoran.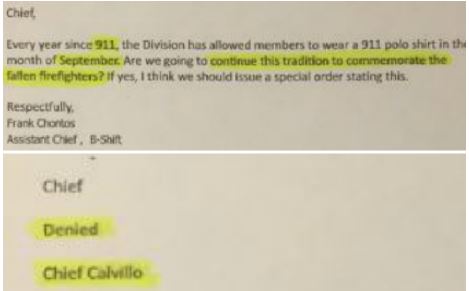 Corcoran says firefighters were denied the right to wear commemorative 9/11 polo shirts by fire chief Angelo Calvillo.
"The guys felt it was unconscionable. We lost 343 brothers that day," said Corcoran.
"First and foremost, they have not worn polos for 15 years. We do not have any documentation that there was an order approved for them to wear polos," said Lt. Larry Gray with the Division of Fire.
Lt. Gray says the request was denied because there is a strict uniform and clothing ordinance in place.
"There are two types of uniforms. Class A: dress uniform, Class B: fatigue uniform," said Lt. Gray.
Lt. Gray says the polos break protocol.
Corcoran isn't buying it.
"It's a tradition we've done the month of September for the past 14 years," said Corcoran.
"If you were going to a funeral, you would not want to go to the funeral of a fallen brother in a polo shirt. You want to go in your best attire, your uniform, a Class A uniform," said Gray.
The chief is asking that all firefighters wear their Class A Uniform at any 9/11 commemoration events this weekend.