This is an archived article and the information in the article may be outdated. Please look at the time stamp on the story to see when it was last updated.
CANTON, Ohio– The Stark County Sheriff is working to find the driver who hit and nearly killed an 8-year-old girl on a neighborhood street Thursday night.
"I kept saying, 'Allie look at me, say something to me' and I couldn't get her to respond at all," said Jeniffer Vance, standing outside the hospital still in disbelief.
Vance said she looked away for just a moment when she heard the crash. Her daughter was hit around 6:30 p.m. Thursday on Spangler Street Northeast in Canton.
Too shocked to notice the vehicle that hit her little girl, she rushed into the street while family called 911. Allie's father was an hour away at work when he learned the news.
"It's one of the longest drives I've ever made," said Seth Studer.
His daughter is out of surgery, recovering from multiple broken bones at a nearby hospital. Neighbors said speeding beyond the 25 mph posted has always been an issue.
"People speed up and down the street, signs don't mean anything anymore," said Stanley Tucker who lives nearby. "They don't pay attention."
Others say the issue is not only the speeders, but a large tree blocking a driver's view of the signs posted on the road.
"They don't even see the sign,with the tree overhanging the sign almost you don't even see it," said Courtney Pepper holding her baby Cora, barely 2 months old.
As the sheriff continues to investigate what happened, Studer said he hopes justice comes soon for his little girl.
"It's so hard to tell your daughter you can't find justice for her and you know the person is out there."
The Stark County Sheriff's Office says a silver 2000 Dodge Caravan with some rust around the rear driver's side wheel and faded plastic bumpers was seen leaving the scene of the crash.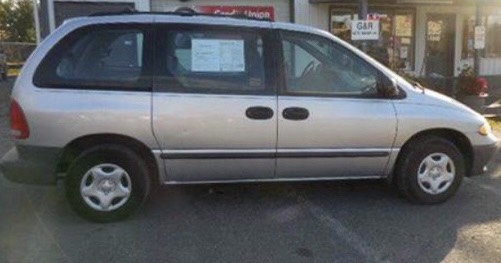 The sheriff's office released a photo of a similar vehicle — not the actual vehicle of interest. It's designed to give the public an example of what the vehicle looks like.
If you have any information, please contact the Stark County Sheriff's Office at (330) 430-3880.