This is an archived article and the information in the article may be outdated. Please look at the time stamp on the story to see when it was last updated.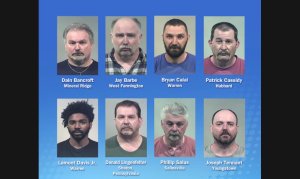 WARREN, Ohio — Eight men have been arrested in connection with sex trafficking in Warren.
According to a release from Ohio Attorney General Mike DeWine, one of the men is also accused of attempting to recruit an undercover officer into the sex trade.
The suspects were arrested Wednesday after investigators said they responded to online advertisements placed by law enforcement. The suspects allegedly exchanged messages with an undercover officer and arrived at a location in Warren expecting a sexual encounter for-hire with an adult female.
"This investigation shows that the demand for sex trafficking is still being fueled by people looking to purchase sex through online sites," said Attorney General DeWine. "My office and our partners in law enforcement will continue to aggressively monitor websites and applications where sex is being marketed and intend to hold those buying and selling sex – and the websites that host sex-trafficking ads – accountable."
Lamont Davis, 20, of Warren, faces charges of promoting prostitution and possession of criminal tools after investigators said he made statements to an undercover officer allegedly in an attempt to recruit the officer to work with him in the sex trade.
Joseph Tennant, 44, of Youngstown, faces charges of promoting prostitution, possession of criminal tools and solicitation after he allegedly attempted purchase sex for himself and for a friend.
The following six suspects were also arrested on charges of possession of criminal tools and/or solicitation:
— Dain Bancroft, 55, of Mineral Ridge
— Patrick Cassidy, 54, of Hubbard
— Jay Barbe, 55, of West Farmington
— Phillip Salus, 50, of Salineville
— Donald Lingenfelter, 48, of Sharon, Pa.
— Bryan Calai, 35, of Warren