This is an archived article and the information in the article may be outdated. Please look at the time stamp on the story to see when it was last updated.
(CNN) — "60 Minutes" correspondent Bob Simon died Wednesday in a car accident in New York City, CBS News reported. He was 73.
Simon's career in news spanned some 50 years and earned him countless awards.
He joined CBS News in 1967 as a reporter and editor based in New York. Simon went on to report from all over the world.
He covered the war in Vietnam and was on one of the last helicopters out of Saigon, according to his CBS News biography.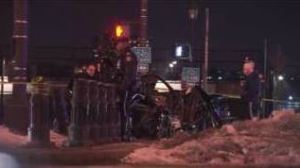 In 1991, Simon was captured by Iraqi forces at the start of the Gulf War. He and three colleagues spent 40 days in prison, an experience he later wrote about in his book "Forty Days."
Among his many awards are four Peabodys, 27 Emmys and the Overseas Press Club's highest honor for a body of work, the biography read.
Simon and his wife, Françoise, have one daughter, who is a producer for "60 Minutes."
For more updates, visit our affiliate PIX 11.
Legendary @60Minutes and @CBSNews correspondent Bob Simon has died: http://t.co/ZyiFOlcuF3 pic.twitter.com/0hm4FFWX7F

— CBS News (@CBSNews) February 12, 2015
#BobSimon was the best writer, in my opinion, working in broadcast news. I have admired him from the time I was a kid watching #CBSNews

— Anderson Cooper (@andersoncooper) February 12, 2015