This is an archived article and the information in the article may be outdated. Please look at the time stamp on the story to see when it was last updated.
STRONGSVILLE, Ohio-- A 6-year-old girl in Strongsville is doing her part to help the men and women in blue.
Lili Talev started out by drawing flowers and hearts. But then decided she wanted to give back to the law enforcement community.
"We support her a lot to do this and we're so excited for her. She's getting a lot of attention already," said Lili's mother, Bojana Talev.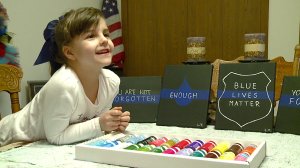 Lili sells her paintings with 80 percent of the profits going to Blue Line Unlimited, a non-profit group that supports police officers and their families.
"They're nice. They protect us. They do their jobs," Lili said.
The family has been involved in Fraternal Order of Police fundraisers in the past, but have no law enforcement members in their family.
"It's been crazy. We get so many orders," Bojana Talev said.
You can learn more about Lili's creations on her Facebook page here. Each painting costs $15.