This is an archived article and the information in the article may be outdated. Please look at the time stamp on the story to see when it was last updated.
MEMPHIS, Tennessee-- Fire officials in Tennessee say nine people have died after a blaze burned a home in Memphis.
WREG reports six children and three adults were killed. Another child is in critical condition.
Fire Department Lt. Wayne Cook said the first firefighters who arrived at the scene about 1:30 a.m. saw smoke coming out of the one-story home where a family of 10 lived. He said it took about 15 minutes for firefighters to extinguish the blaze.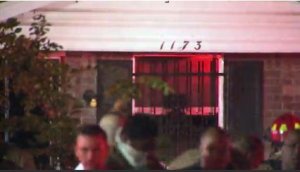 "I've never seen firemen cry, but they were bawling like babies when they brought the children out," neighbor, Shoundra Hampton, told The Tennessean.
Officials are trying to determine what caused the fire.
Memphis Fire Director Gina Sweat said it's the most deaths in a single fire in the city since the 1920s.