This is an archived article and the information in the article may be outdated. Please look at the time stamp on the story to see when it was last updated.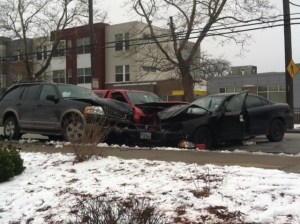 CLEVELAND — Several people were taken to the hospital Friday afternoon after a three-car accident in Cleveland.
It happened at East 72nd Street and Kinsman Avenue just before 12:30 p.m.
The preliminary investigation revealed that a black Pontiac Grand Am, with three people inside, was traveling eastbound on Kinsman Avenue. The vehicle went off the roadway onto the sidewalk and then returned to the road. Police said once back on the roadway, the vehicle struck a red Chevrolet pickup and a black Ford Explorer that were traveling westbound on Kinsman.
We were told that one person had been ejected. Police said the victims taken to the hospital included the 70-year-old female driver of the Pontiac and two children inside.
Two people in the other vehicles were also transported.
Their conditions are currently unknown.
Stick with Fox 8 News and FOX8.com for updates on this breaking news story as they become available.