This is an archived article and the information in the article may be outdated. Please look at the time stamp on the story to see when it was last updated.
OHIO -- The Ohio Department of Education has released its 2017 Ohio School Report Cards.
Districts and schools were graded on six components for the 2016-2017 school year. The components are Achievement, Progress, Gap Closing, Graduation Rate, K-3 Literacy and Prepared for Success.
Districts and schools received A-F grades on each of the six components and most of the individual measures. There are no new measures on the 2016-2017 report cards.
The Cleveland Metropolitan School District, one of the biggest districts in Ohio, received failing marks in most categories.
The district's failing marks included the value-added component, a measure of whether students made the progress expected of them in a year. CMSD's performance index, a composite of all test scores, came within 1 percent of a D but fell short.
The K-3 Literacy component, however, rose from Fs in 2016 to Cs in 2017. The district's graduation rate also rose.
CMSD Chief Executive Officer Eric Gordon in a press release vowed to continue bearing down and further improve on the "bookends" -- gains in K-3 literacy and graduation -- while digging deeper into strategies for the area in between.
"I am confident we can do it, I am very confident," he said. "What we need to do now, more than ever, is go from 'We can' to 'We must and we will.'"
Below is a break-down of 'Achievement Component' scores for the biggest districts in our area. The achievement component of the report card represents the number of students who passed the state tests and how well they performed on them.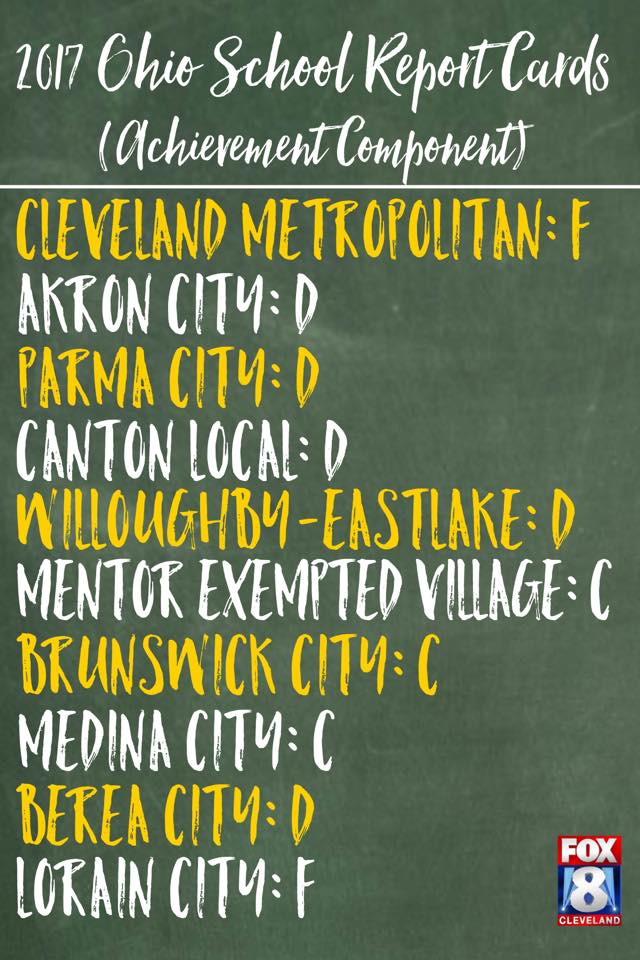 For a breakdown/explanation of all components, click here. 
For spreadsheets of the district-level and building-level report card data, click here.
For a copy of the overall state report card, click here.