This is an archived article and the information in the article may be outdated. Please look at the time stamp on the story to see when it was last updated.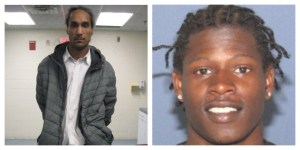 NORTH OLMSTED, Ohio — Two men have been arrested in connection with an armed robbery at Great Northern Mall last week.
Police say Steven Kitchens, 41, and Monte Dontay Mallory-Williams, 25, both of Cleveland, are expected to be charged today.
The men are also suspects in multiple armed robberies in the Cleveland area, police say.
The robbery at Great Northern Mall happened at about 8:35 p.m. Wednesday. A woman was walking out of the mall when two men, armed with a handgun, stole her credit cards. They were later caught on video trying to use the cards in Cleveland.
Images of the suspects were released Friday.
Police are thanking the public for their help as the suspects were identified just a few hours after their photos were released.