This is an archived article and the information in the article may be outdated. Please look at the time stamp on the story to see when it was last updated.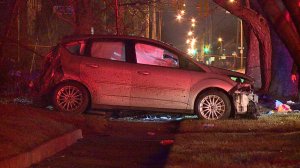 CLEVELAND, Ohio — Two people were hospitalized early Monday after shots were fired at their car, causing it to crash.
Cleveland police report that it happened at just after 2:35 a.m. in the 11900 block of Harvard Avenue.
A 38-year-old woman was shot in the stomach, and a 38-year-old man was ejected from the car.
They were both taken to the hospital, but their conditions are not known.
No arrests have been made.