This is an archived article and the information in the article may be outdated. Please look at the time stamp on the story to see when it was last updated.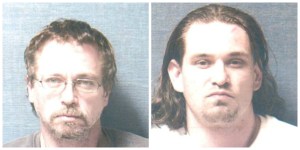 MASSILLON, Ohio — Two Massillon men face charges after police discovered a meth lab operation both inside and outside of their home.
According to the Stark County Sheriff's Office, the arrests came after a month-long investigation into a complaint regarding a possible meth lab operation at the home on Ninth Street S.W.
The investigation revealed components of a large-scale meth lab operation inside and outside of the home, according to police.
A vehicle parked at the residence also had meth lab components inside of it.
Thursday, David Allen Jennings, 44, and Anthony James Raunikar, 32, were arrested and charged with illegal assembly or possession of chemicals for the manufacture of drugs and one count of illegal manufacture of drugs.
The case remains under investigation.