This is an archived article and the information in the article may be outdated. Please look at the time stamp on the story to see when it was last updated.
CLEVELAND-- A $1 million bond was set Thursday morning for the woman accused of plotting the murder of her firefighter husband.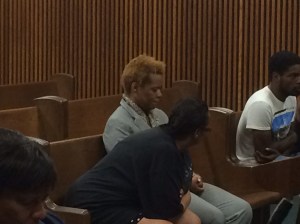 Uloma Curry, 44, plead not guilty to aggravated murder.
Cleveland police officers arrested Curry Tuesday afternoon. According to court documents obtained by FOX 8 News, in October and November of 2013, Curry contacted and hired several men to murder her husband, Cleveland Fire Lt. William Walker.
Walker, 45, was ambushed and shot as he arrived at his Lampson Road home on Nov. 3, 2013. Curry made the first call to 911 and is heard hysterically, pleading for help. Days later, firefighters comforted her at Walker's funeral at Cleveland Public Auditorium.
Continuing coverage of William Walker's murder here
[ooyala code="RrbDhndzpIq5gqreIECYR5GO6iWJsiUm" player_id="b248f00b9d6e4d7ba21cbc796a85f61c" width="640" height="360" auto="true"