This is an archived article and the information in the article may be outdated. Please look at the time stamp on the story to see when it was last updated.
PERRY TOWNSHIP, STARK COUNTY, OH - Perry Township police have arrested a 7th-grade student in connection with a "clown scare"  that threatened to "shoot up" a school in the Perry Local School District Monday.
The twitter threat came from someone using the name "Frown the Clown" and was noticed Monday morning.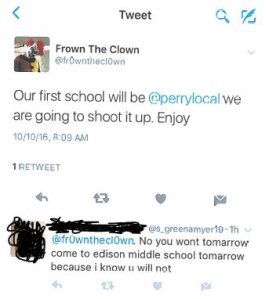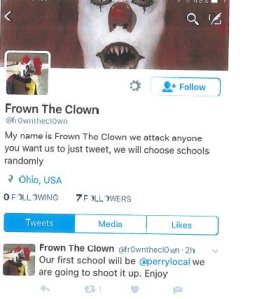 Detectives began investigating immediately, and at around 7:30 p.m., a 7th grade student, age 12, was arrested and charged with one felony count of inducing panic. The juvenile was booked in the Juvenile Center.
Chief Michael Pomesky addressed the recent number of "scary clown" threats in the state recently in a release Monday evening:
Similar threats have been investigated throughout the Ohio area over the last several weeks. I would like to take this opportunity to impress upon parents to speak with your children about the importance of making good decisions and not to engage in this type of behavior. Parents ... need to take an active role in monitoring the social media accounts and activities of their children on electronic devices.
More on the clown scares, here.