This is an archived article and the information in the article may be outdated. Please look at the time stamp on the story to see when it was last updated.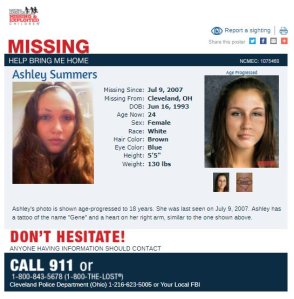 CLEVELAND, Ohio — Just about 10 years ago, 14-year-old Ashley Summers went missing from her Cleveland home.
Now, the National Center for Missing and Exploited Children is again asking for help locating her.
Summers was last seen in the area of West 96th Street and Madison Avenue on July 9, 2007.
She is described as 5'5″ tall, and she was around 130 pounds when she was last seen.
She has brown hair and blue eyes, and has a tattoo of the name Gene, along with a heart, on her right arm.
Anyone with information about Ashley is asked to contact the National Center for Missing & Exploited Children at 1-800-843-5678 (1-800-THE-LOST), the Cleveland Police Department at 216-623-5005 or your local FBI.
Continuing coverage on Ashley Summers here.