This is an archived article and the information in the article may be outdated. Please look at the time stamp on the story to see when it was last updated.
CLEVELAND, Ohio -- Cleveland police are investigating a shooting that left one person dead and another person injured.
It happened around 2:50 a.m. Wednesday on East 128th Street between Hlavin Ave. and Beachwood Avenue.
Police and EMS confirmed one person was killed in the shooting. A second person was taken to University Hospitals with multiple gunshot wounds. Police said the victims were males but did not provide names or ages.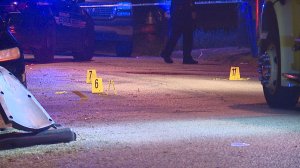 Investigators put up crime scene tape across a two-block area of East 128th Street, where they found a gun and several bullet casings.
A car next to the dead body, an SUV, and a house all have bullet holes in them.
Police have not released any information on possible suspects.
Stay with FOX 8 News and FOX8.com for updates on this developing story.