This is an archived article and the information in the article may be outdated. Please look at the time stamp on the story to see when it was last updated.
Joey Chestnut is the #1 ranked competitive eater in the world and he is in Northeast Ohio today to compete in the Mapleside Farms World Apple Pie Eating Championships.
Joey stopped by the Fox 8 studio this morning and explained how he approaches a competitive eating match. He also shared some tips with the Fox 8 Morning Show Team as they held their own mini apple pie eating competition.
Spoiler alert: Picture of the Fox 8 winner below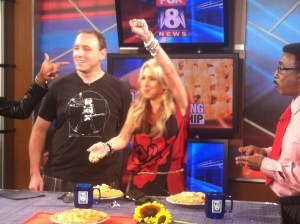 Mapleside Farms Johnny Appleseed Festival takes place today, tomorrow and Sunday at 294 Pearl Road in Brunswick. The Apple Pie Eating Contest is tonight at 7pm.