This is an archived article and the information in the article may be outdated. Please look at the time stamp on the story to see when it was last updated.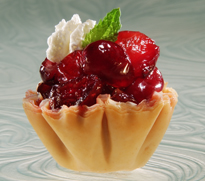 Berry Cherry Mini Shells
Ingredients:
1 cup orange flavored dried cranberries
1/2 cup hot water
1 teaspoon vanilla extract
1 cup tart cherries
1/4 cup sugar
1 tablespoon honey
15 Athens® Mini Fillo Shells (1 box)
1/4 cup whipped topping, thawed for garnish
15 mint leaves, for garnish
Directions:
In a small sauce pan, combine cranberries, hot water and vanilla extract. Let soak for 30 minutes. Add cherries, sugar and honey, simmer over low heat until it comes to a slow boil. Remove from heat and let cool for 30 minutes. Spoon 1 tablespoon of filling into each Fillo Shell. Garnish with whipped topping and mint leaf. Serve immediately.
*Makes 15 desserts