This is an archived article and the information in the article may be outdated. Please look at the time stamp on the story to see when it was last updated.
One of the best parts of Super Bowl Sunday … the food! We checked in with some of the area's top chefs for their favorite game day goodies. C2 Chef Omar Jones shares his recipes for roasted pork shoulder and cabbage apple slaw:

Roasted Pork Shoulder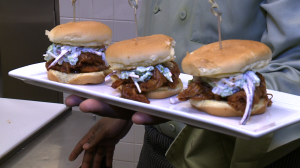 Ingredients
-- 3 pound pork shoulder
-- 2 tbsp. cumin seeds
-- 2 tbsp. salt
-- 2 tbsp. pepper
-- 2 tbsp. granulated garlic
-- 3 cups apple juice
Instructions
-- Mix all dry ingredients together and rub on pork.
-- Place pork in roasting pan add apple juice and cover with foil.
-- Roast at 300 degrees for approx.
-- Five hours until pork pulls apart easily. Let cool then pull pork apart, and add your favorite barbecue sauce.
Cabbage Apple Slaw
Ingredients
-- 1/2 cabbage thinly sliced
-- 1 sliced red onion
-- 1 granny smith apple thinly sliced
-- 1 red delicious apple thinly sliced
-- 1 cup mayonnaise
-- juice from 1 lemon
-- 1 tsp salt
-- 1 tsp pepper
-- 1 tsp sugar
Instructions
-- Mix all ingredients in a bowl and refrigerate for at least 1 hour.
For more Super Bowl Starters, click here.
Do you have a favorite family game day recipe? If so, send us a message on our Fox 8 Facebook page with the recipe and a picture of the dish.
You can watch the Super Bowl on FOX 8.
*CLICK HERE for continuing coverage on Super Bowl XLVIII.