This is an archived article and the information in the article may be outdated. Please look at the time stamp on the story to see when it was last updated.
Recipe prepared by LeeAnn Miller, owner of The Miller Haus Bed & Breakfast (check out their Facebook page) and friend of Walnut Creek Cheese.
Farmer Lee Jones of The Chef's Garden is a long time friend of LeeAnn Miller and he supplied the beautiful greens and vegetables for today's salad. Farmer Jones also offers these fresh vegetable for home delivery.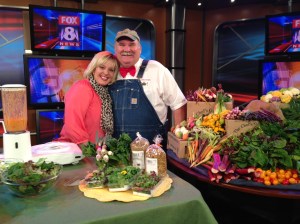 The Best French Dressing
Ingredients:
1 1/2 cup sugar
1 1/2 cup vegetable oil
1/2 cup vinegar
1 can of cream of tomato soup (or blend fresh cherry tomatoes into a puree)
1 cup Miracle Whip
1 T. Lawry's seasoned salt
Instructions:
Mix ingredients all together, I like using a blender bottle with a whisk or my blender attachment on my Bosch Mixer. Store in blender bottle or sealed container in the refrigerator. Lasts for several weeks and delicious on any green, leafy salad.