This is an archived article and the information in the article may be outdated. Please look at the time stamp on the story to see when it was last updated.
Stefanie Paganini shared not one, but two recipes perfect for summer.  Using freshly picked blueberries  , Stefanie showed Fox 8's Wayne Dawson how to turn the healthy fruit into a sweet palette pleasing soup that could be an appetizer or dessert.
Blueberry Prosecco Soup
Serves 4
Ingredients:
3 1/2 cups fresh or frozen blueberries
1 cup Prosecco or champagne
2 tsp. fresh mint, chopped
1/4 tsp. salt
1/4 cup granulated sugar
3/4 cup plain yogurt
2 Tbsp. fresh lemon juice
Ingredients:
Mix together blueberries, sugar, salt, and lemon juice, mint.  Let it rest in the refrigerator for a minimum of 25 minutes, can be done one day in advance.
In a food processor, blend berry mixture with yogurt in a blender until smooth. Strain through a fine mesh strainer to remove any blueberry skins remaining.   Add Prosecco and mix to incorporate.
Garnish soup with a mint leaf.
Stefanie also showed Fox 8's Kristi Capel how to combine melon and pasta to create a refreshing summer salad.
Prosciutto Melon Pasta Salad
Serves 8
Ingredients:
4 cups cooked Gemelli pasta
1/8 cup minced scallions
3 cups fresh cantaloupe, diced
2 cups fresh sliced strawberries
1 cup Ciliegini sized fresh mozzarella
8 slices prosciutto slices
 Instructions:
Preheat oven to 370°.
Place prosciutto slices separately on a parchment lined baking sheet.  Bake until crisp, approximately 10 minutes.  Allow to cool. Break into strips
Toss ingredients together in a bowl with dressing.
Balsamic Vinaigrette
1 Tablespoon fresh minced basil
1/4 cup balsamic vinegar
2 cloves roasted garlic
1/2 cup Extra Virgin olive oil
Salt and pepper to taste
In a food processor or blender, blend together dressing ingredients and adjust to taste.  Toss with salad.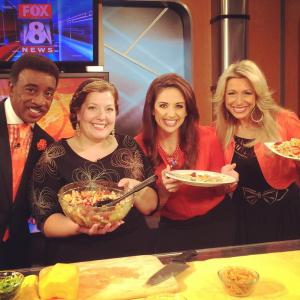 Click here to learn more about the classes offered at the Paganini School of Cooking.