This is an archived article and the information in the article may be outdated. Please look at the time stamp on the story to see when it was last updated.
We are crazy about cookies. At The Miller Haus Bed & Breakfast, cookies are a big hit as well. We love sandwich cookies filled with fluffy cream, iced cookies that are topped with a creamy frosting or just the everyday drop cookie!
My husband, Daryl, has a few favorite cookie recipe. The Monster Cookie is one of his top picks and it may be because of all the peanut butter. This recipe mixes together quickly and I make them pretty big and it still yields about 3-dozen cookies.
Guaranteed to bring all the cool Monsters outta the woodwork!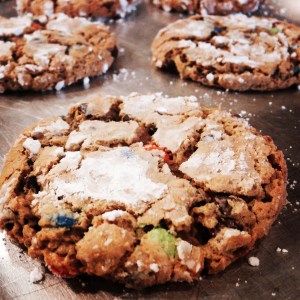 Monster Cookies
¾ cup margarine
1 cup white sugar
1 cup brown sugar, lightly packed
4 eggs
1 lb. creamy peanut butter
2-1/2 teaspoons baking soda
4-3/4 cups quick oats
½ lb. mini M&M's
12 oz. mini semi-sweet chocolate chips
Cream margarine and sugars well. Add eggs, then the rest of the ingredients. Chill dough for at least 1 to 2 hours.
Form dough into 1-1/2 to 2 inch balls and roll in powdered sugar and coat heavily.
After cookies are on the sheet, pat down slightly (not flatten, just gently pat down two or three times.)
Bake at 350 for 9-1/2 to 10 minutes. Cookies should be only lightly golden on the edges; be careful not to over bake. Have plenty of cold milk on hand!
*Be sure to 'like' "The Miller Haus Bed and Breakfast" on Facebook and follow me on Twitter by clicking here.*
*See more 'At Home with Lee Ann Miller'*