This is an archived article and the information in the article may be outdated. Please look at the time stamp on the story to see when it was last updated.
I believe friends are priceless treasures. It sounds cliché I know, but even just one true friend is an immeasurable gift. I love making new friends. It's like unwrapping a present when you discover people's stories, hear funny experiences, listen to their heartbreak or the retelling of joyful moments. Friendship, the mutual admiration of another human, is truly amazing.
We have some new friends in our lives right now that are moving to our area from the south. You know, where they say "y'all" and drink sweet tea with enough sugar that you think you may be drinking maple syrup. We are having fantastic times, laughing a lot and eating mouth-watering food.
The following salad recipe is from south of the Ohio border. Because when you talk food with friends, you talk about favorite recipes. This is a salad our new pals love and now I get to pass it along. Quite frankly, it's the BOOM SAUCE!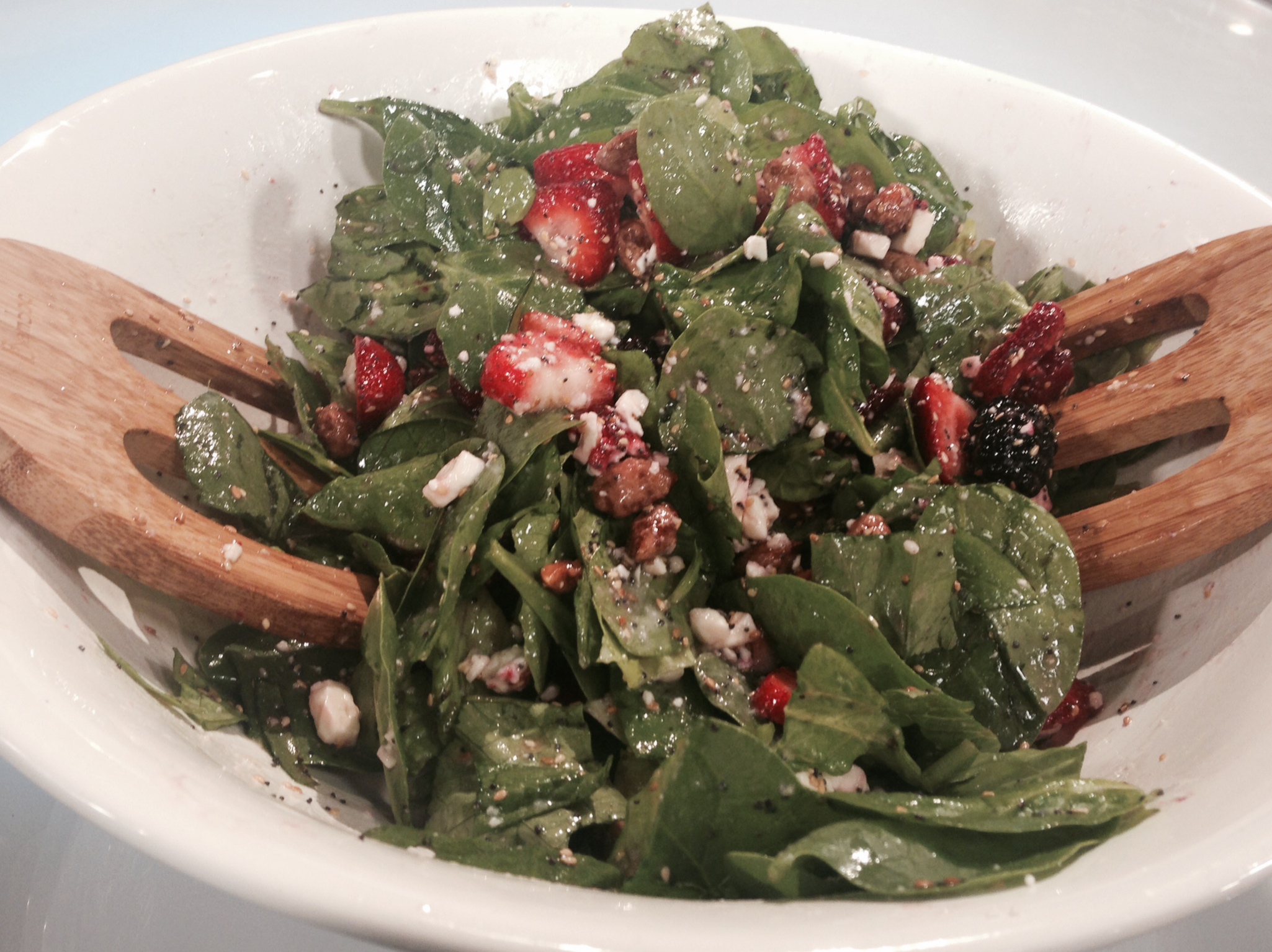 Another cool thing about this creation, our new friends helped me give it a name.
*Put your hands in the air for new friends and the life-long ones, too!*
Spring Berry Salad
10-12 cups Romaine & Spinach mixture
1 cup sliced strawberries
½-1 cup blueberries
½-1 cup red raspberries
½-1 cup blackberries
1 cup candied nuts – pecans or almonds (I use the cinnamon-sugared ones from Walnut Creek Cheese)
1 – 6oz. container crumbled Feta cheese
Combine salad ingredients in a large bowl. The fruit portions of this recipe are totally up to you. We use the larger amounts; we love the fruit in this recipe. This salad does not hold well; so once you toss it in the dressing, serve it right away.
Dressing recipe:
1/4 cup apple cider vinegar
1/2 cup white sugar
1/2 cup Wesson oil
1-1/2 tsp. minced onion
2 T. toasted sesame seeds
1 T. poppy seed
Combine dressing ingredients and mix well. Pour dressing over salad mixture and serve pronto!
You also can add a grilled chicken breast for a complete meal!
*Be sure to 'like' "The Miller Haus Bed and Breakfast" on Facebook and follow me on Twitter by clicking here.*
*See more great recipes: 'At Home with Lee Ann Miller'*