This is an archived article and the information in the article may be outdated. Please look at the time stamp on the story to see when it was last updated.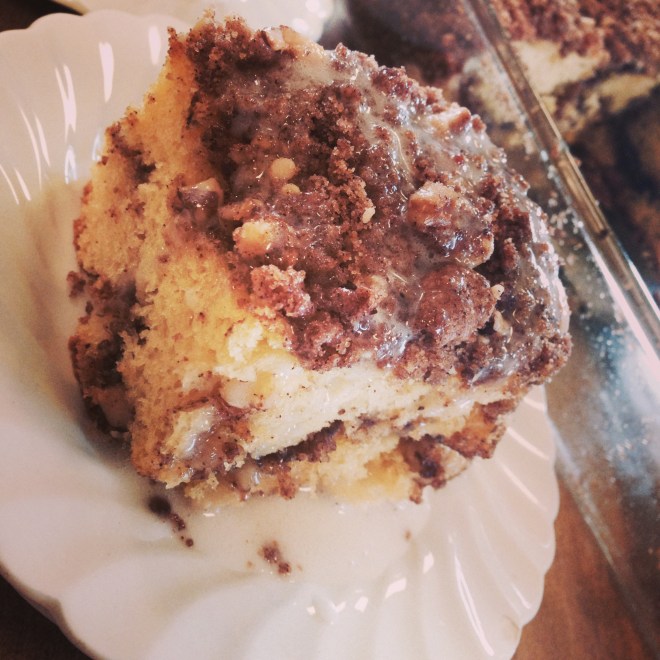 The Miller Haus Bed & Breakfast is the perfect setting to try out new recipes. And we usually know if it's a winner by the amount of guests who ask if we share from our collection of yumminess.
This morning, we made this easy coffee cake.
It was so easy you can mix the entire recipe by hand!
So this weekend, or for Easter brunch, give this Easy Coffee Cake a whirl.
We think you'll be glad you did!
Easy Coffee Cake
1 box yellow cake mix
1 cup sour cream
4 eggs
1/2 cup milk
1 small 3.4 oz. box instant vanilla pudding
Crumb Mixture:
1-1/2 cup brown sugar
2 Tablespoons cinnamon
6 Tablespoons flour
1 cup nuts (optional)
6 Tablespoons margarine
Combine cake mix, sour cream, eggs, milk and pudding.
Mixing by hand or on low with an electric mixer, beat well for about 5 minutes.
In a separate bowl, mix together brown sugar, cinnamon, flour, nuts and softened margarine with a fork. Mixture will be crumbly.
In a greased 13×9 baking pan, gently spread half of the cake batter.
Sprinkle half of the crumb mixture over the cake batter in the baking pan.
Gently spread 2nd half of the cake batter over the crumbs and then sprinkle remaining crumbs over the top.
Insert knife into all the layers and cut through the batter in swirling motions before baking. Bake at 350 for an hour.
*Note: It does need an hour. It will look dark on top, but don't be scared! Also, it is the very best served warm and drizzled with a powdered sugar glaze. (About 1-1/2 cups of powdered sugar and a few Tablespoons of half & half).
SEND. HELP. I may eat 3 pieces!
*Be sure to 'like' "The Miller Haus Bed and Breakfast" on Facebook and follow me on Twitter by clicking here.*
*See more 'At Home with Lee Ann Miller'*