This is an archived article and the information in the article may be outdated. Please look at the time stamp on the story to see when it was last updated.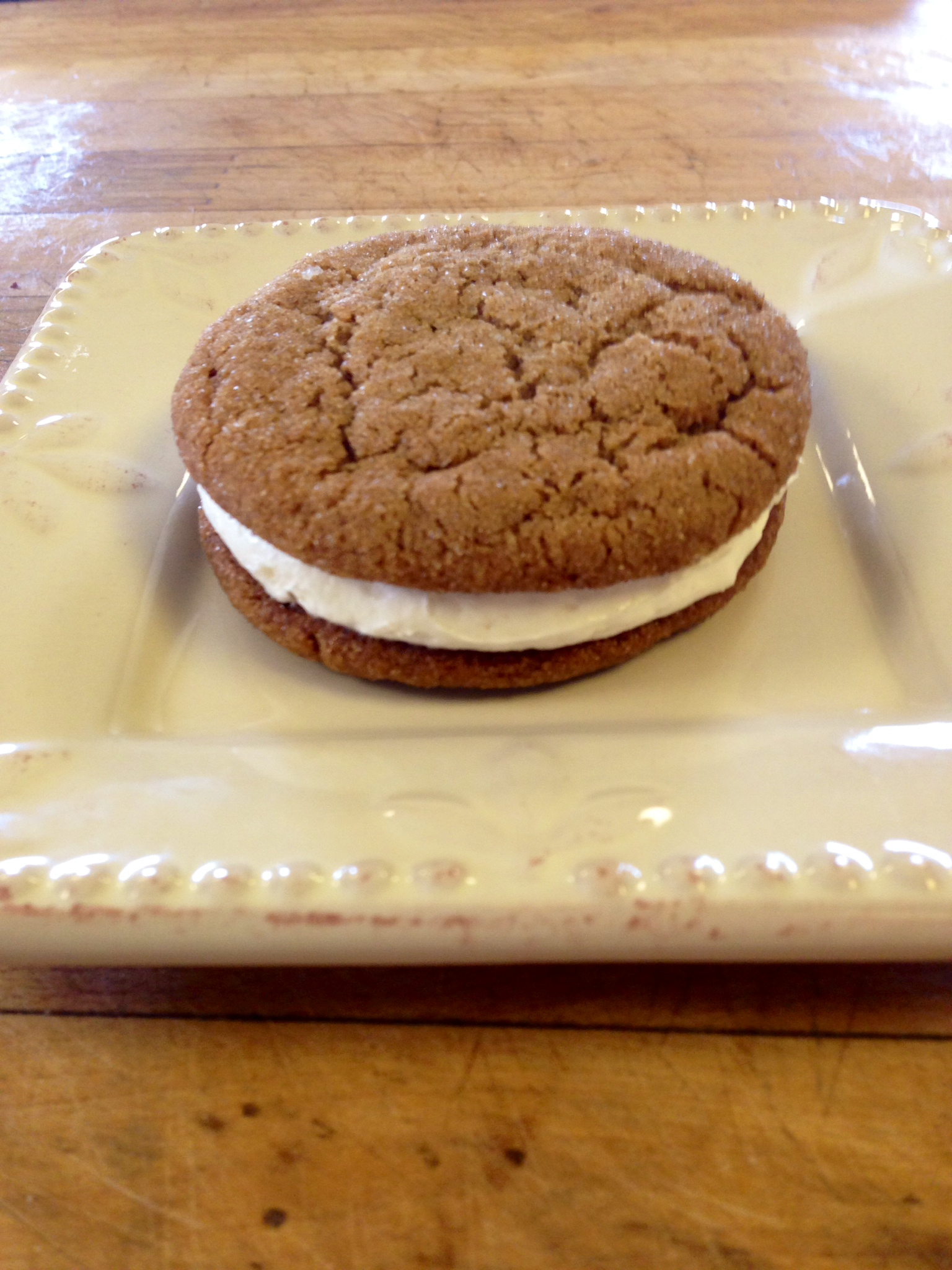 You could call our whole family "Cookie Monsters" and we would take it as a compliment.
We would probably even wear the slogan on t-shirts: "The Miller Family. COOKIE MONSTERS." We adore cookies. All kinds, really. Drop cookies, frosted cookies, refrigerator cookies and the famous sandwich cookies.
Before marrying my Amish-born-and-raised husband, my resume really didn't include many sandwich cookies. Well, let me tell ya, the Amish community sets the bar when it comes to sandwich cookies. Some might even consider Whoopie Pies their own food group in this neck of the woods.
The enclosed sandwich cookie recipe is from my Amish sister-in-law, Miriam. Legend has it that Miriam baked a couple dozen of these cookies for a local benefit auction and some crazy woman bought them for $88.00 bucks. Yep, it was I. Hey, don't judge, I know my cookies.
Back in August before our oldest son left for college, I did a "College Cookie Countdown" on The Miller Haus Bed & Breakfast Facebook page. Leading up to his departure, for about 2 weeks, each day I baked a favorite cookie, pictured it and posted the recipe. It brought such JOY and FUN! Our 13-year-old gained 4 lbs. during that little expedition. Me? I didn't weigh myself. OH NO.
One of the FOX8 producers noticed the "College Cookie Countdown" and invited the boys and I to do a segment the day before our college freshman set off on his new adventure. You can watch that segment below!
What a special memory on the Morning Show for us, I really treasure that day in my memory.
So, with cookies still in mind, we thought it would be fun if I shared some favorites that would work into your Holiday Season. Maybe I'll even share several leading up to Christmas Day! If you'd like that let us know in the comment section below. And hey! Let me know some of your favorite Christmas Cookies. I love to try new recipes.
Cheers to Cookies!  And Miriam!
Miriam's Molasses Sandwich Cookies
2-1/2 cups golden brown sugar
2-1/2 cups white sugar
3 cups shortening
4 eggs
8 teaspoons baking soda dissolved in
1 cup buttermilk
1 cup molasses (full flavor or light, I like Brer Rabbit brand)
2 teaspoons baking powder
4 teaspoons cinnamon
1 teaspoon salt
9-1/2 cups flour (for this recipe I like Gold Medal all-purpose flour)
Cream together sugars and shortening until well combined and creamy. Add eggs one at a time, beating well after each one is added. In a separate container/bowl, stir baking soda into buttermilk, and then gradually add to cookie mixture. Add molasses, baking powder, cinnamon and salt. Add flour one cup at a time, combining each cup well. The cookie dough will be soft and smooth. Chill cookie dough for 1-2 hours in the refrigerator. Using about a 1-inch cookie baller, make all the dough into balls and place on a piece of wax paper. Roll each ball into white sugar. Bake at 350 for 10-12 minutes. *Side note: this is going to seem like a very large batch, but keep in mind each sandwich takes 2 cookies!
Filling
1-1/4 cups milk
6 Tablespoons all-purpose flour
½ cup margarine
1 cup shortening
1 cup white sugar
Over medium heat cook 1-1/4 c. milk with 6 T. all-purpose flour until really thick, stirring constantly. Be patient this takes a few minutes. Chill. Beat 1/2 c. margarine, 1 cup shortening and 1 c. sugar. Add chilled milk mixture to the creamed mixture and spread between 2 cooled cookies.
Now! THAT is my idea of a good sandwich, a cookie sandwich!
*CLICK here to check out the Miller Haus Bed and Breakfast website*