This is an archived article and the information in the article may be outdated. Please look at the time stamp on the story to see when it was last updated.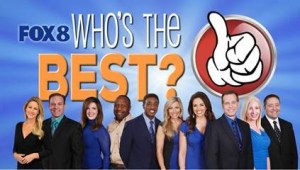 CLEVELAND, Ohio -- All week long on Fox 8 News in the Morning, we're putting our anchors on the spot and asking them "Who's the best...?"
Each day, we'll highlight a different category: Who's the best dancer? Who's the best athlete? Who's the best at holding their breath?
Each morning we'll ask viewers to answer those questions in a poll on Fox8.com -- then on Fox 8 News at 9 a.m., we'll reveal the results.
We'll also ask our anchors who THEY think is the best in each category. It could get interesting...
Today's question was: Who is the best cook? The winner was Stefani Schaefer!