This is an archived article and the information in the article may be outdated. Please look at the time stamp on the story to see when it was last updated.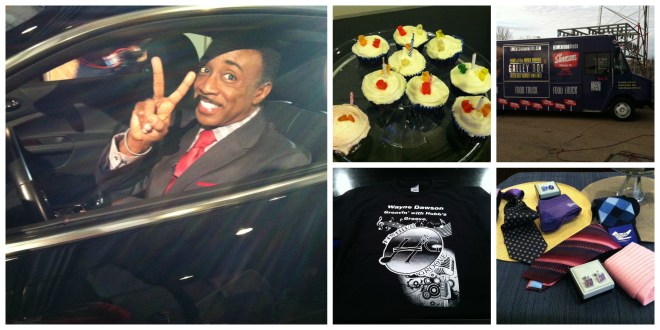 CLEVELAND — The best birthdays include the special people in your life, your favorite things and a few surprises.
At Fox 8 News, we did our best to combine those elements to make Wayne Dawson's day a great one!
Thursday started with some red velvet cupcakes topped with Gummy Bears (Wayne's favorite!) made by our own Kristi Capel.
Our featured band, Hubb's Groove, gave Wayne a custom-made shirt.
Local businesses also added to our celebration, beginning with Swenson's.
Their new food truck made a special trip so Wayne could have a fish sandwich.  They also had a t-shirt and commemorative glass for Wayne.
The biggest surprise occurred when Wayne thought he was about to see the Web Video of the Day, but instead, Kenny Crumpton took him into the garage.
A Jaguar from Westside Jaguar, Landrover, Volvo and Mazda was waiting for Wayne to take for a spin.
And because a fancy car calls for fancy clothes, Christophier Custom Clothiers joined us with part of their collection and let Wayne choose a tie and matching hosiery to keep!
Thanks to everyone for making Wayne's celebration special, and to all of you who joined us from home!