This is an archived article and the information in the article may be outdated. Please look at the time stamp on the story to see when it was last updated.
By Jennifer Charlton, Fox 8 News producer
It's an appetite for love!
A local couple recently got engaged with some cheese and pepperoni.
Jamie Bast and Carl Blaine love pizza.
In fact, they eat it about once a week.
Jamie knew an engagement was coming, so Carl had to figure out a way to catch her by surprise.
Getting creative, Carl ordered a heart-shaped pizza from Baja Pizzafish in North Canton.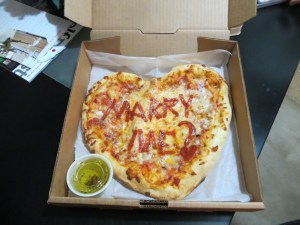 It read, "Marry Me?" … in pepperoni!
Jamie said "yes."
And, yes, she was surprised!
The couple of four years plan to marry on Memorial Day of 2014.
*Pictures courtesy of Jamie and Carl