This is an archived article and the information in the article may be outdated. Please look at the time stamp on the story to see when it was last updated.
CLEVELAND — You may have noticed a few black clouds hovering over Lake Erie or a black film covering buildings and cars.
Mayflies have made their way onto the shores of northeast Ohio.
While the bugs are fairly large and intimidating, they are actually harmless.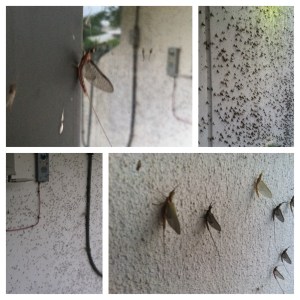 Try to resist the urge to squash the pesky critters; mayflies omit a fishy smell once they've been squished.
The strong presence of mayflies is a good sign for Lake Erie. It means the lake is healthy.
Mayflies are also important because nearly everything eats them: large fish, small fish, and birds.
The insects will only be around for a week or two.