This is an archived article and the information in the article may be outdated. Please look at the time stamp on the story to see when it was last updated.
The University of Akron is known for teaching Hospitality Management students all the tricks of the trade when it comes to fruit and ice carving.
Under the direction of Professor Emeritus Richard Alford, two University of Akron students showed off their ice carving skills in the Fox 8 front yard and explained to Fox 8's Stefani Schaefer what it takes to create art out of ice.
The University of Akron Ice Fest 2014 takes place Wednesday January 15th at the Student Union from 10am-2pm. The event showcases ice & vegetable carvers from the University's Hospitality program. Students will be carving ice outside and carving fruits and vegetables inside.
Click here to learn more about the University of Akron Ice Fest 2014.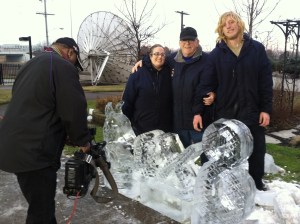 Chef Richard Alford and University of Akron students Caleb Landis and Jennifer Herrick.