This is an archived article and the information in the article may be outdated. Please look at the time stamp on the story to see when it was last updated.
CLEVELAND -- It's pretty safe to say Fox 8 News in the Morning anchor Kristi Capel did not expect this little incident when she went to work Friday morning.
It's a fairly rare occurrence, as far as we can tell, and it caught Kristi when she least expected it!
Shortly after 9 a.m., she wandered into the elevator and the doors were about to close when WJW President and General Manager Greg Easterly called her name.
Kristi hit a button to make the doors reopen, but they got stuck instead, leaving only a small opening and Kristi trapped inside.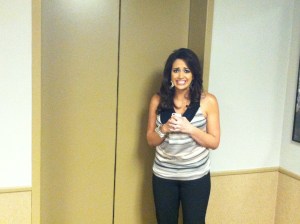 A small crowd gathered.
Engineers devised a rescue plan while caring coworkers offered her magazines and tried to think of flat foods that could be slipped in between the doors.
Thankfully the engineers fixed the problem before too long, but a mystery soon emerged.
Once the elevator kicked into gear, the doors closed completely, and when they reopened, Kristi wasn't there!
The lift took her to another floor before it returned to its original position.
Kristi issued a "statement" afterward, which read, "I can see my family now for Christmas!"
In reality, she wasn't stuck for that long and wasn't in any real danger.  As always, Kristi was a great sport and everyone had a good laugh.