This is an archived article and the information in the article may be outdated. Please look at the time stamp on the story to see when it was last updated.
Does it stress you out to think about having people over to your house? Do you get sweaty and jittery just thinking of a house full of people? I used to. Not anymore.
In the past 10 years, I have become more relaxed and open about having people over to our home. Maybe it's because of our kids' ages. Maybe it's because we had a shift in our professional life. Maybe it's my age. But whatever the reason, because of this change in me, I have made a discovery.
Welcoming people into your home is less about perfection and more about how you make them feel. I've told our kids over the years that it doesn't matter what I cook for people if I'm a jerk and treat people unkind. So, my bottom line for parties like the Super Bowl, is to create an environment in our home where people leave feeling they have been loved on. As a family, we hope they pull out of our driveway and think, "I feel so good inside."
And not just from the yummy food.
Here are some things that have helped me enjoy myself and be more relaxed about having people over:
*I don't invite all the people I'd like to invite to a party. Our house is perfect to accommodate 13- 20 guests. So, I keep that in mind.
*I lean on my friends who are awesome in the kitchen and help me. If all your guests are wired to go in the living room and watch the game & not help in the kitchen, you end up alone in the clean up. I have friends who love being with me in the kitchen and that is huge for our ability to entertain and for me to have fun as well.
*I let go of some of the things that are not perfect in our house. Chances are, I'm the only one that notices. Unless, of course, I point them out to our guests, which I've been guilty of doing, which is SO WEIRD.
*I love kids. I mean, we have children and love them to pieces. However, over the years I have become intentional about how many kids are at our parties, their ages and their behavior reputation. It only takes one badly behaved child for the other guests to wanna leave and leave quickly. Also, I try to have things like Lego's and board games to allow kids to have a good time too.
For my French Quarter Cheese recipe, click here.
Fluffy Shrimp Dip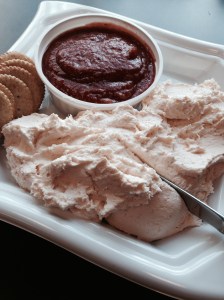 3- 8oz. pkgs. cream cheese, softened
2 cans (4 oz. each) tiny shrimp, rinsed and drained (you can also use approx. 30 large fresh), chopped or minced fine
3 Tablespoons onion, chopped fine
— Beat cream cheese until fluffy and smooth. Rinse and drain shrimp and pat dry with paper towel. Place shrimp in food processor until chopped fine. Chop onions fine. Add shrimp and onions to the cream cheese and blend well. Chill or serve immediately.
Sauce:
1- 12oz bottle chili sauce
1/2 cup ketchup
8 oz. horseradish
— Mix together chili sauce, ketchup and horseradish. Serve with crackers. Spread cracker with shrimp dip, then add a splash of the sauce on top. SO GOOD!
*Be sure to 'like' "The Miller Haus Bed and Breakfast" on Facebook and follow me on Twitter by clicking here.*
*See more 'At Home with Lee Ann Miller'*
For more Super Bowl Starters, click here.
You can watch the Super Bowl on FOX 8.
*CLICK HERE for continuing coverage on Super Bowl XLVIII.