This is an archived article and the information in the article may be outdated. Please look at the time stamp on the story to see when it was last updated.
To celebrate the FOX 8 outdoor wedding and Valentine's Day, here is The Miller Haus B&B White Wedding Cake Cupcake recipe!
Our Innkeeper, Francine, is a cupcake expert and this recipe is a keeper. Trust. Me.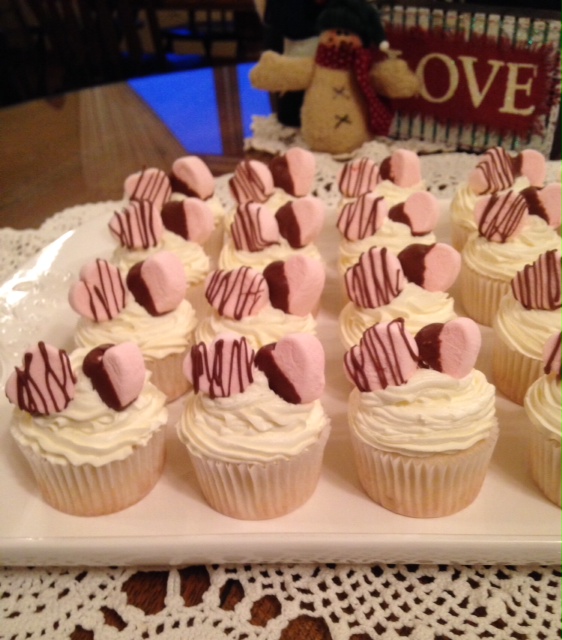 Congratulations Erica and Gregory- may love continue to fill your home and we hope you have many, many happy years together.
This Valentine's weekend at The Miller Haus Bed & Breakfast we have return guests, Bud and Judy. They have been married 47 years and I asked them to share some tidbits of advice on staying in a committed marriage for so long. So here ya go:
"Don't go to bed mad at each other."
"Whatever you may face together, remember that this too will pass."
Happy LOVE DAY!!
White Wedding Cake Cupcakes
1 box white cake mix
1 c. all-purpose flour
1 c. white sugar
¾ teaspoon salt
1-1/3 c. water
2 Tablespoons vegetable oil
1 teaspoon vanilla
1 teaspoon almond flavoring
1 c. sour cream
4 egg whites
Combine dry ingredients. Add remaining ingredients, mix until well combined. Fill 2/3 full in cupcake liners and bake at 325 for approximately 15 minutes.
*Our Innkeeper, Francine's, baking tip: Pull out these cupcakes when the tops of the cupcakes are still tacky and appear underdone.
*Be sure to 'like' "The Miller Haus Bed and Breakfast" on Facebook and follow me on Twitter by clicking here.*
*See more 'At Home with Lee Ann Miller'*