This is an archived article and the information in the article may be outdated. Please look at the time stamp on the story to see when it was last updated.
At this time each year, Catholic Schools Week is celebrated. Catholic Schools Week is a time dedicated to the enduring value of Catholic education. It honors the long-term benefits Catholic education has provided countless young people and society at-large. Building community awareness and announcing the success of Catholic education, Catholic Schools Week commemorates the effort and continued support of students, families, faculty, staff and stakeholders of Catholic education for the 21st century.
Margaret Lyons, Superintendent of Catholic Schools in the Diocese of Cleveland shares, "Faith-based Catholic Schools provide a safe, secure, and nurturing environment, and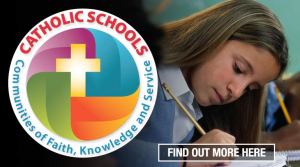 offer a rigorous curriculum resulting in outstanding student achievement. We are proud of our shared parent, school and community partnerships, and of the inherent sense of community service that we foster among our students."
Discover the schools that may fit your child's needs – click here!