GlobeNewswire
D&H Distributing Adds AMD CPU Products For Client Devices & Servers, Boosting Its Components Linecard
— D&H Will Expand the Success of its Components Division with AMD's Top-Flight Processors, Graphics Products, and Computing Solutions, Enhancing the Distributor's Offering for System Integrators, SMB VARs, and Retailers—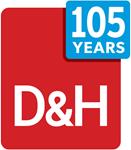 News provided by
D&H Distributing
May 17, 2023, 11:35 AM ET
HARRISBURG, Pa., May 17, 2023 (GLOBE NEWSWIRE) -- D&H Distributing, a leading provider of technology solutions to the North American channel, has entered a more expansive agreement with AMD to offer this semiconductor designer and developer's leadership computing and graphics product portfolio. The ability to access these products from a highly trusted and authorized source now provides retailers, etailers, VARs, and system integrators a full complement of best-in-class and high performance components across most every industry-leading manufacturer. These components are sought after in both the commercial and consumer sectors, creating notable areas of opportunity for D&H partners.

D&H has had a long-standing relationship with AMD in selling its components within branded devices from HP, Lenovo, and many others. However, in the past several years D&H has accelerated its focus on components, launching a full Components Division and boosting its emphasis on processor-heavy application areas such as esports, gaming, and large-scale ProAV or server deployments. The distributor's dedicated components team has built years of real-world experience in these complex and still-maturing categories. The company's Solutions Experts have gained field experience and developed both services and industry relationships to ensure the success of VARs, integrators, and dealers looking to profit from these installations. The addition of AMD to D&H's portfolio is a testament to the success of its expanding components business and to both companies' commitment to the partners that serve these channels.
D&H will drive sales of these products, including the renowned AMD Ryzen™ and AMD Athlon™ series processors, which boast some of the fastest speeds in the industry. Combined with AMD Radeon™ Graphics, these solutions deliver extraordinarily responsive and dependable performance for demanding workloads ranging from content creation and immersive, high-end gaming and esports to crisp, reliable, high-bandwidth videoconferencing solutions for corporate meeting spaces and effective computing solutions for seamless in-classroom experiences.
"We're thrilled that a pioneer like AMD has decided to enhance their commitment to D&H's partner base to such an outstanding degree," said Dan Schwab, co-president at D&H Distributing. "AMD has had a solid history of working with D&H as we helped to proliferate their technology through branded, top-tier devices. It's an honor to now expand that relationship and deliver these gold-standard components individually to system builders, integrators, VARs, and retailers looking to assemble sophisticated solutions with best-in-class processing power. It makes for an exciting start to our new fiscal year."
"D&H has been an attentive and valuable partner throughout our engagement. We've witnessed the impressive growth of their components business, especially in key markets like esports and gaming, where our CPU products deliver the performance and efficiency PC enthusiasts are looking for," said Jason Mooneyham, corporate vice president and general manager, Americas sales, at AMD. "Together we can help drive the market forward, allowing D&H's partners to provide powerful components for innovative deployments."
Partners can visit www.dandh.com/amd to learn more, or call (800) 877-1200 to speak to an account representative.
About D&H Distributing 
D&H Distributing supports resellers and MSP partners in the corporate, small-to-midsize business, consumer, education, and government markets with endpoints and advanced technologies, as well as differentiated services. D&H is ready to fill needs created by consolidation in the marketplace. Now in its 105th year (dandh.com/anniversary), its vendors and partners can be confident in its ability to provide a wealth of enablement resources, multi-market expertise, credit options, and consultative services. D&H is agile in response to the needs of its VAR and MSP partners, demonstrating resilience through decades of industry mergers and market disruption, overcoming everything from wars and recessions to pandemics.
The company works to expand the competencies of its partners in areas such as cloud services, ProAV, collaboration, UCC, mobility, esports, digital displays, smart home automation, video surveillance, digital imaging, and server networks across a range of markets. Its value proposition includes highly lauded training opportunities and partner engagement events, dedicated Solutions Specialists, certifications, professional marketing resources, and an expanding digital Cloud Marketplace.
The distributor is headquartered in Harrisburg, PA, in the U.S. and Brampton, Ontario, in Canada with warehouses in Atlanta, GA; Chicago, IL; Fresno, CA; and Vancouver, BC, Canada. Call D&H at (800) 877-1200, visit www.dandh.com, or follow the distributor's Facebook and Twitter feeds, https://www.facebook.com/DandHDistributing/ and @dandh
Contact: Suzanne Mattaboni
Suzanne Mattaboni Communications, Inc.
For D&H Distributing
(610) 737-2140
suzanne@mattaboni.com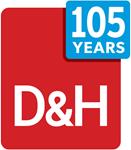 NOTE: This content is not written by or endorsed by "WJW", its advertisers, or Nexstar Media Inc.
For inquiries or corrections to Press Releases, please reach out to GlobeNewswire.