This is an archived article and the information in the article may be outdated. Please look at the time stamp on the story to see when it was last updated.
Stellantis on Tuesday announced a $155 million investment in three Kokomo, Indiana, plants to produce drive modules for future electric vehicles beginning in 2024.
Consisting of an electric motor, power electronics, and transmission assembled as one unit, these modules will be used in vehicles based on the STLA Frame and STLA Large platforms, which will underpin an upcoming Ram 1500 REV pickup truck and Dodge electric muscle car, respectively. While the company didn't name specific products, it's very likely these models will be powered by U.S.-built drive modules from this facility.
Stellantis EV drive module
The company has noted before that these drive modules are a key to hitting a maximum range target of 500 miles for these platforms, along with 2.0-second 0-60 mph acceleration for the sportiest models. Stellantis reiterated the 500-mile claim in a press release announcing the Indiana investments, which the automaker noted follow $3.3 billion invested in Indiana since 2020 to support electrification.
The latest investment will be split between Stellantis' Indiana Transmission, Kokomo Transmission, and Kokomo Casting plants, reflecting a division of labor between them, the release said. Gearbox covers for the drive modules will be cast at Kokomo Casting and machined at Kokomo Transmission, while gear machining and final assembly will be handled at Indiana Transmission, according to Stellantis.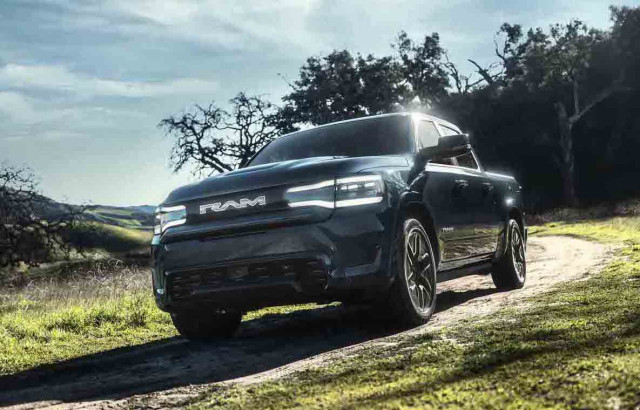 Ram 1500 REV
Kokomo is also where Stellantis has announced a $2.5 billion battery factory under a joint venture with battery supplier Samsung SDI. It's quite a leap from just over a decade ago, when Stellantis predecessor Fiat Chrysler Automobiles was touting a $300 million investment in the Kokomo Transmission plant to build more fuel-efficient units for internal-combustion vehicles.
Stellantis plans to spend $35.5 billion globally over five years to help electrify 14 brands. That includes a goal of 50% battery-electric vehicle sales in the U.S. by 2030.
Related Articles