This is an archived article and the information in the article may be outdated. Please look at the time stamp on the story to see when it was last updated.
The 2024 GMC Hummer EV can charge an electric vehicle quicker than the standard 120-volt outlet found in most garages, GMC revealed last week at a demonstration for the SUV variant of GM's flagship electric vehicle.
Both the 2024 Hummer EV truck (SUT) and the new Hummer EV SUV benefit from a new 19.2-kw onboard charger and portable charge cord that comes standard on all but the base EV2 models. An available accessory connector allows for 240-volt vehicle-to-vehicle (V2V) charging at 6 kw, which might translate to more than 20 miles of added range per hour for an efficient vehicle like a Chevy Bolt EV.
The so-called Power Station generator accessory hasn't yet been priced but will be available soon. With it, any modern electric vehicle with the SAE J1772 five-pin connector should be able to get a charge from a new Hummer EV. That enables the big brute of an electric truck and SUV to not only recover an off-road vehicle stuck in the muck, but also power most electric vehicles that might have run out of juice on the road.
2024 GMC Hummer EV SUV V2V charger
Both versions of the 2024 GMC Hummer EV also gain vehicle-to-load (V2L) power generation through GMC's Power Station generator that can provide 3 kw to power tools, camping equipment, home appliances, an air compressor, or other needs with a 120-volt connection. Whether at 120 volts or 240 volts, it will operate at 25 amps, accounting for the difference in power.
Only a few other electric vehicles offer such capability. The Hyundai Ioniq 5, Genesis GV60, and Kia EV6 also can charge other EVs, but in the U.S. it's limited to using the 120-volt V2L connector, which provides only about 1.3 kw of juice.
2022 Hyundai Ioniq 5 – V2L accessory
The 2023 Ford F-150 Lightning has a Home Integration System that could power an entire house for a few days in the event of a power outage, but it requires a three-part installation at a cost of $3,895. The Rivian R1T pickup and R1S SUV lack bidirectional charging, for now. 
Both the Hummer EV truck and SUV use a 400-volt battery pack stacked onto one another in parallel most times, though it can switch to series for 800-volt DC fast-charging to enable up to 300 kw of energy to flow into the battery. It'll recoup 100 miles of range in 14 minutes, according to GMC. The smaller, more efficient Ioniq 5 can charge from 10-80% in just 18 minutes.
Range hasn't been certified by the EPA, though GMC estimates about 300 miles for the 2024 GMC Hummer EV SUV.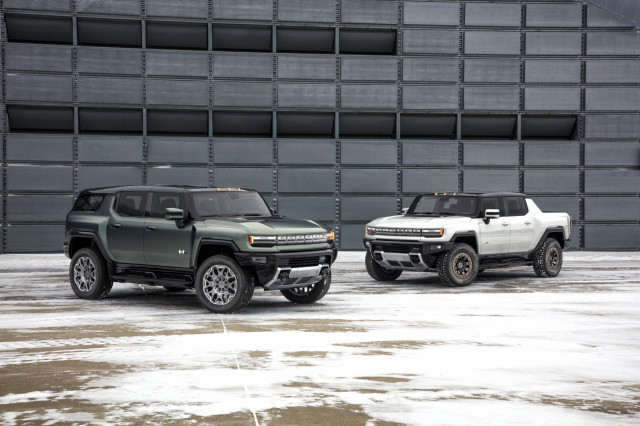 2024 GMC Hummer EV SUV
The difference between the truck and SUV is a nine-inch-shorter wheelbase on the SUV and a smaller battery pack, with 20 cell modules stacked 10-on-10 instead of 24 modules stacked 12-on-12 in the truck. Based on IEC standards, the SUV has a 170-kwh battery pack, whereas the Hummer EV truck has a 205-kwh battery pack.
The onboard charger upgrade marks a big change in a short amount of time since the 2022 GMC Hummer EV truck debuted last year with an 11.5-kw onboard charger. The "old" trucks can receive a jump, so to speak, but they don't have the capacity or hardware to charge another electric vehicle. 
Related Articles